Shooting for the Stars
Mikhail Lecaros | Adobo Magazine | December 31 2014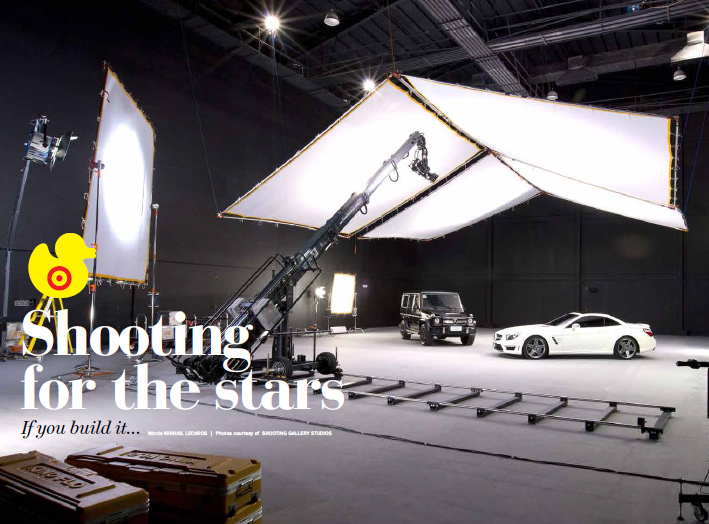 "Because there's nothing in existence," says filmmaker Jun Reyes, when asked on the incentive to construct the soon-to-inaugurated Shooting Gallery Studios. "In terms of finish, in terms of dimension, in terms of space, we don't have a studio facility that is world class, and it's been the dream of a lot of people to have a real studio that's not just a retrofitted warehouse."

With decades of experience under his belt, Reyes knows what he's talking about. Having visited and worked in production facilities all over the world, Reyes has no shortage of exposure to and experience in what international filmmakers look for in a studio. Applying those standards here, however, is something that had not been previously attempted – at least, not to this extent.
"Thailand has over a dozen of these facilities, and that's the (ideal) model," Reyes shares, saying that the Philippine industry got a shot in the arm with regard to how far behind it was when The Bourne Legacy shot here two years ago. Now, says Reyes, the Philippines can take its place on the global stage, especially with regard to foreign productions.
"In Thailand, those facilities generated over US$60 million last year, just from foreign productions coming in! But that's combined…we're looking at a lot less here, but everyone who contributed to Shooting Gallery believes in the project, believes in the vision."
"There are a lot of people involved in this project," Reyes says. "I'm just the enabler."
Humility notwithstanding, among the investors that Reyes "enabled" are CMB Film Services' Jim Baltazar, Sound Design's Raul Blay, director Mandy Reyes, and cinematographer Rody Lacap.
Today, the vision is almost a reality. When adobo met with Reyes to discuss Shooting Gallery, the compound was nearly complete, with workers scrambling to put the finishing touches on what was already clearly an impressive undertaking. A deliberately minimalist, modern structure standing on the corner of Zapote Street in Makati, Shooting Gallery houses two international spec studios, complete with appropriate support amenities, all laid out with an eye towards efficiency. "This is not just a bigger space, says Reyes. It's an efficient space."
On the name, Reyes says that it "just came about by accident," when asked about any connection between the studio and the similarly-named Shooting Gallery Asia (owned by Sebastian Tan, based out of Singapore). Adding to the misconception is the fact that Reyes' production outfit, Indie. Go Productions is affiliated with Shooting Gallery Asia. "I wanted it to be an art space initially, with some room to shoot. When I realized that it was the same name as Seb's company, I called him up and he told me he would be happy to help promote our facility, a handshake deal. Even the logos are different, this is all independent."
Reyes says that in helping to establish Shooting Gallery Studios, he is merely doing what he's always done: Jumpstarting the means by which others can hone their
crafts and tell their stories. "They said I was crazy when I created a studio with airconditioning back in the day!" laughs Reyes. "They said no one would be willing
to pay the extra fees to keep the aircon running, and now, that's the standard!"
Of course, at the end of the day, the big question is, how will the local industry take to Shooting Gallery?
"We just wanted to create a place where you could decently shoot a movie, commercials, teleseryes, music videos, etc., in a clean, efficient manner. This isn't for
any one outfit or group. Shooting Gallery Studios is for everyone, and when people see what we have to offer, they will come."
#